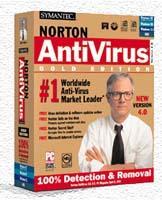 Norton AntiVirus 4.0 Gold Edition
Key Features
Bloodhound™ heuristics - Real-world protection that "sniffs out" new and unknown viruses and detects and repairs unknown macro viruses. Researchers at SARC estimate Bloodhound can detect over 90% of new macro viruses and 80% of new file viruses.


LiveUpdate™ Now Schedulable - Downloads current virus definitions from the Internet or BBS. Run LiveUpdate during installation, then schedule future sessions to run automatically. Provides definition updates FREE for the life of the product!


LiveUpdate™ Email - For the latest news on viruses and virus hoaxes, SARC will send you email notification. Includes LiveUpdate attachment so you can access new virus definitions right from your email program.


Repair Wizard™ - Sooner or later someone will send you a file containing a virus. Don't panic. Tell Repair Wizard to remove the virus automatically and the file will be as good as new.


Emergency Boot Disk - If you already have a virus and can't load your operating system, this will help remove the virus so you can resume using your computer.
Free Earthlink Network TotalAccess™ - Internet access and Microsoft® Internet Explorer browser offers.